Portable Sound System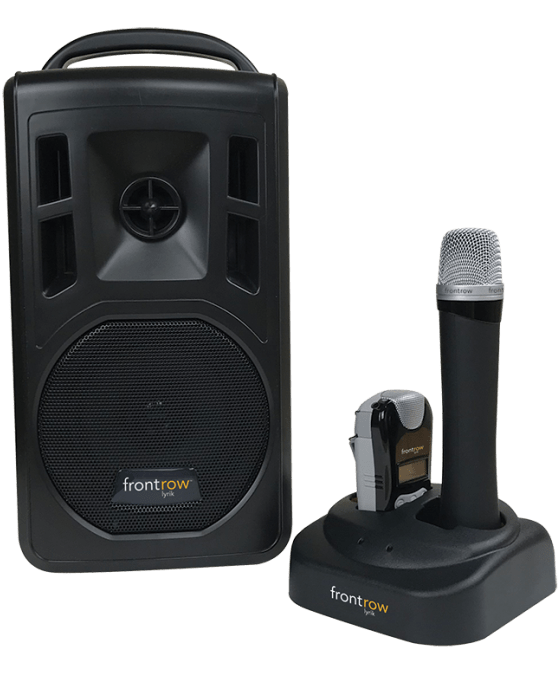 Lyrik
Powerful audio. Anywhere, anytime.
Lyrik takes portable audio to a new level with powerful sound designed for in the classroom, around the school, and online.
Lyrik is portable
With its integrated rechargeable battery and lightweight design, Lyrik can go wherever you need it throughout the school day. The tower and teacher microphone are lightweight. Lyrik comes with a padded custom-made case, so you can easily and quickly transport and protect the tower, along with its mics and any cables you need.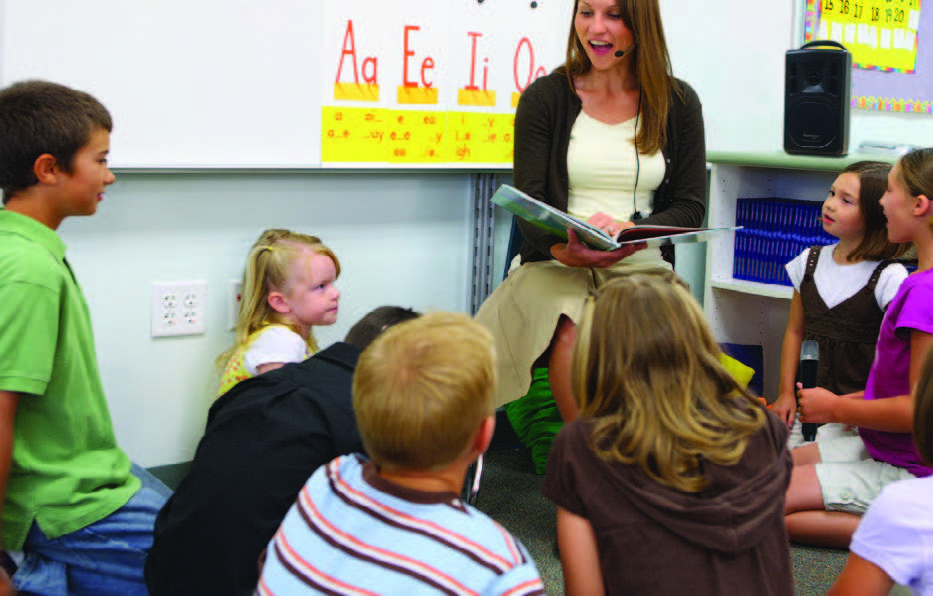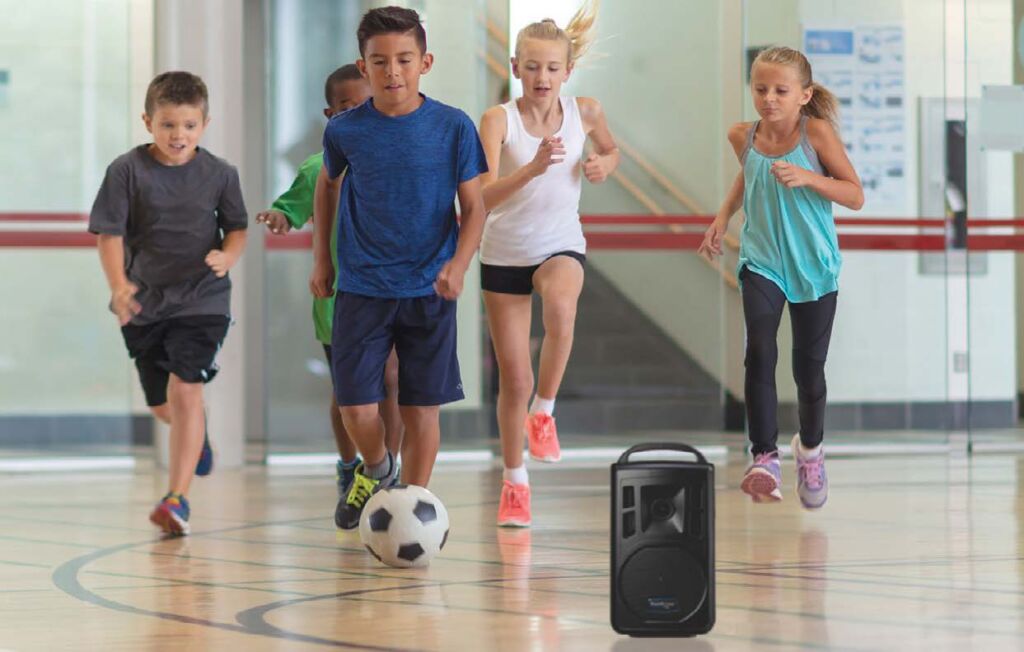 Lyrik is powerful
Lyrik is a sonic powerhouse that can make instruction heard across spaces large and small. Students learn only what they can hear clearly, and Lyrik delivers sound clarity both students and teachers need. Lyrik also includes FrontRow PrioriTeach, a feature that automatically mutes auxiliary audio when a teacher speaks.
Lyrik is versatile
Flexibility and adaptability of educational technology is more important than ever. With lessons taking place in a variety of settings, Lyrik is a portable wireless sound solution that broadcasts instruction where you need it.
You can connect Lyrik to a computer for audio playback, blended learning, or lesson capturing. Connect it to other auxiliary audio sources directly using cables or wirelessly using Bluetooth®.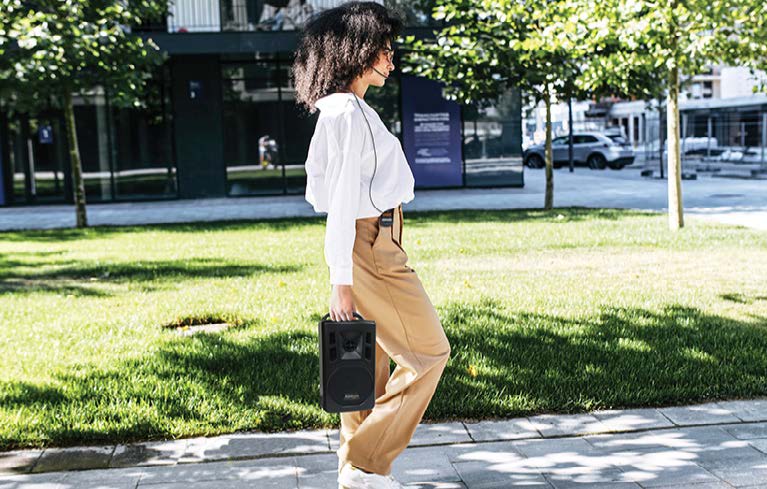 LYRIK Features
A properly-programmed and -implemented Conductor system lets you control or communicate practically anything across the school.

Micker Pro
Hold a mic, speaker and an amplifier in one hand
The Micker Pro is a new concept portable microphone with a built-in speaker that amplifies the volume of your voice. Convenient and simple to use.
Micker Pro is portable
The "Micker Pro" is a true portable handheld PA system. A handheld wireless microphone with an in-built speaker and amplifier, very portable and easy to hold weighing just 300 gms. It has a powerful built-in rechargeable battery, 10 watt speaker and incorporated high quality microphone.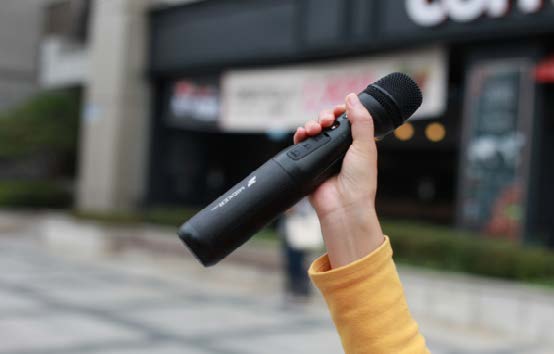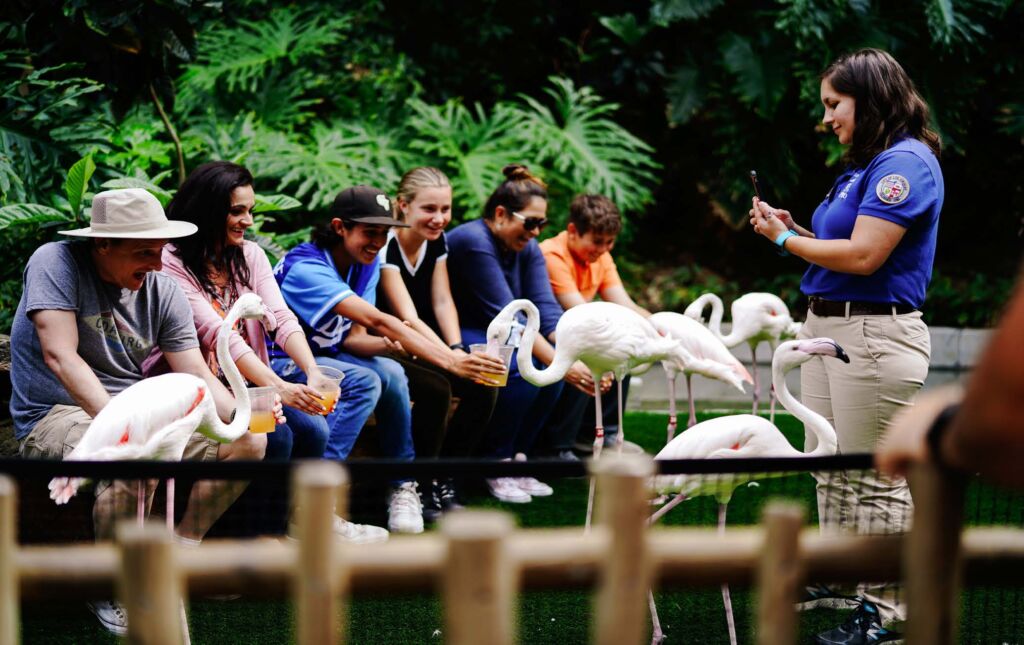 Can be used anywhere
Perfect for teachers in classrooms and small lecture rooms, small gatherings indoor or outdoor, tour guides, as well as church and seminar, etc. You don't have to raise your voice at all to convey your message to the audience.
Lightweight and compact
Exclusive dual speaker provides convenient and stable quality of sound with no directional loss in classroom environments. Other premium features include howling suppressor technology, 3-level volume adjustment, echo setting, external device input (great for karaoke), and an attention-getting buzzer.
Multiple units can be used simultaneously without interference.
Micker Pro Features
Ideal for, Meetings, Q&A sessions, Lectures, Gymnasiums, Schools, Tours & field trips & Training seminars and much more!
Portable microphone with a built-in speaker that amplifies the volume of your voice.
All-in-one design, no cables, no wireless connection needed, no interference problems.
No feedback with integrated noise suppressor.
Built in alert buzzer button with 2 tones, and built in echo button.
Includes charging cable, charging cradle, manual, lanyard and zippered carry case.