Surround Sound on Your Shoulders
BeHear PROXY is a unique wireless Bluetooth neck speaker & personal amplifier that lets you listen to any Bluetooth audio source and/or amplify your surroundings! The built-in speakers allow you to listen comfortably while maintaining situational awareness, while the retractable earbuds give you full privacy when you need it.
The flexible neckband twists easily for placement around your neck and rests gently on your shoulders. It will also work as a table top speaker.
CAPABLE – delivers high quality crisp sound from any Bluetooth-enabled source: television, cell phone, computer, music player, etc.
COMFORTABLE – lightweight form factor sends audio through speakers on your shoulders leaving your ears free
CLOSE – brings sound close to your ears for a personal, immersive experience, with extractable earbuds that enable private listening when desired

Television Watching
– Rich stereo sound, inches from your open ears
– Eliminates room reverberation and other distractions
–  Supports low-latency aptX, enabling perfect audio-video synchronization with no lip sync issues
–  Pairs simultaneously and switches easily between TV and a smartphone
   *If your TV doesn't support Bluetooth®, an additional TV transmitter is required to stream wirelessly from non-Bluetooth enabled TV's.

Mobile Calls & Audio Streaming
– Hear better and sound better with the low noise microphone!
– Loud and clear mobile calls, podcasts, streamed videos, and video conferences (supports Zoom, Google Meet, Microsoft Teams, Skype, etc.)
– EasyListen™ imperceptibly slows down incoming speech for better comprehension
– Superior sound quality thanks to Alango's SonicVariance™ technology


Earphones Mode
– Use for privacy during mobile calls, or in consideration of others when consuming streamed content
– Supports ListenThrough™ to keep you aware of important ambient sounds while enjoying audio
– Can be used to relieve hearing aid fatigue
Distortion-Free, Long Range
Hear without interruption, distortion, or distraction! Qualcomm aptX low latency technology avoids lip sync issues. Direct transmission eliminates distortion and room reverberation. And the powerful, long range (200 ft. – 60 m.) transmitter ensures continuous connection—even when you leave the room.
Comfortable. Flexible. Versatile.
No more bulky headphones, or annoying earbuds that heat up your ears! This flexible neckband twists easily for placement around your neck and rests gently on your shoulders. Also works as table top speaker.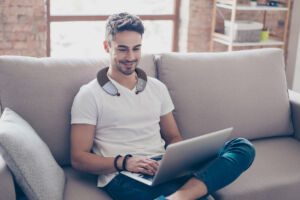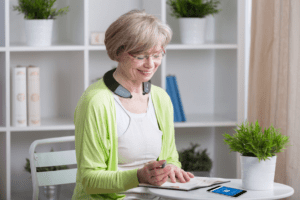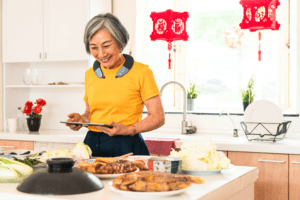 Features
Clear, crisp TV dialogue with no lip sync issues (supports aptX)
Long-range transmitter for freedom of movement
Loudspeakers located just below your open ears
Switches easily between TV sound and mobile calls
Can be used with hearing aids, if desired